Martin Crowe
To the wonderful creative team at Dying Art- Marty knew exactly what he wanted his casket to represent – a reflection of who he was and what life meant to him. I know personally, his experience of working with your team at Dying Art was an enjoyable and easy experience for him. He conveyed his thoughts about what he wanted and you brought them to life. He was thrilled with the stunning casket you designed for him. At his funeral, the colour of the casket and the personal details really gave myself a sense of calm and joy, as I knew the casket design truly reflected Marty and what he wanted. So a huge thank you to your talented team at Dying Art. We will forever treasure the beautiful images of his stunning casket.
Lorraine
Cricket Casket CRK01
The family absolutely loved the casket. All the cricketers who attended the funeral thought the same… The casket was carried out (pall bearers) under a guard of honour holding wickets… The casket was very appropriate. Thanks for the fast turnaround.
01
02
03
04
05
06
07
08
09
10
11
Custom Design – Hereford Horns
Hereford Horns – a custom design for a farmer. The family said "WOW when I saw the coffin it just looked so much better than I could ever have imagined!! … From all our family thank you for an amazing job and we would not hesitate to recommend Dying Art. Great personal service and staff were amazing at a very difficult time in our lives".
Rebecca
01
02
03
04
05
06
07
08
09
10
11
Rambling Rose RRN01
I felt I needed to pass on my delight in Mum's casket. Recently through Dil's at Albany, we had the hard decision to make as to what to send our Mum away in. We had gone through the bland (boring) wooden casket brochures and then Paul very kindly showed us your booklet. My brothers and I were rapt and chose the rambling rose for my Mum as she loved her rose garden. Somehow the thought of saying goodbye to Mum in something so beautiful made it easier to deal with. And what is more, the whole gathering commented on the beautiful casket. I have even passed on your web site address to several friends who have told their children what casket they want when the time comes to say goodbye!
Thank you for having the insight to produce such a wonderful product.
Robyn
01
02
03
04
05
06
07
08
09
10
11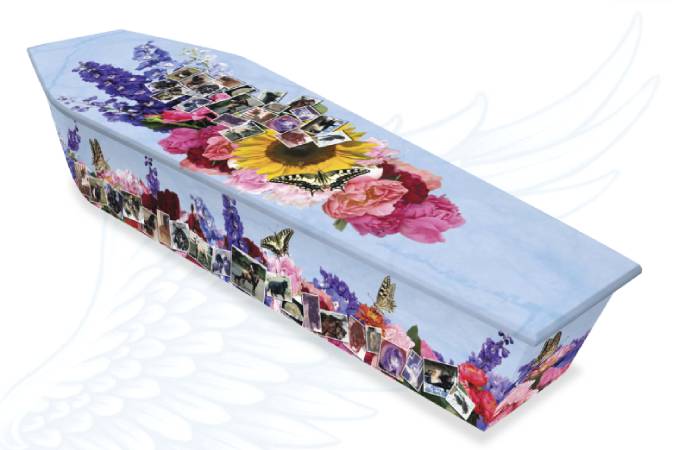 Custom Design – Flowers and Pets
Marie passed away on Sunday morning and is now resting in the casket you designed and made for her.
Thank you for your efforts, it is exactly what she wanted and the people that have seen it say it is Marie to a T.
My thanks for the professionalism you have shown and your promptness in the preparation of her casket.
Dave
01
02
03
04
05
06
07
08
09
10
11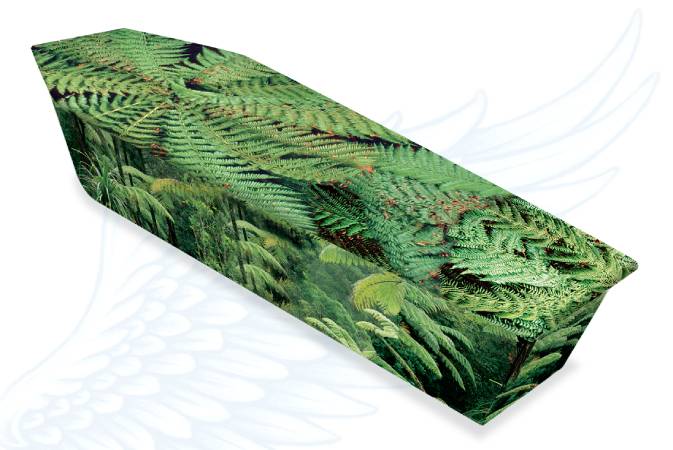 Native Bush NAT01
I love your work, it is unique and we have NOTHING like it here in Oz at all. I saw your work when I buried my dad in Wanganui last year in a native flora casket – the whole congregation just adored the way the family said goodbye to a very special man. We felt good about letting him go, too, in such a visual and meaningful way.
Thanks for your creative vision.
Cheers,
Jenny
01
02
03
04
05
06
07
08
09
10
11
Beach Scene BEG01
I would like to thank you for your help during the loss of my brother-in-law on Christmas Day last year. I would also like you to pass on my thanks to the person who worked on the days before Christmas (giving up their holiday time), and to the person(s), including yourself, who made themselves available on Christmas day to provide my sister and her family with the casket for their husband and father.
Rangi loved the water and his fishing, and to see him resting surrounded by the beach seemed very appropriate. Every comment on his casket was positive, with many people referring to his "flash waka", for this, his final journey home.
Thank you once again for your help, patience and understanding, and that of your staff.
Adrienne
01
02
03
04
05
06
07
08
09
10
11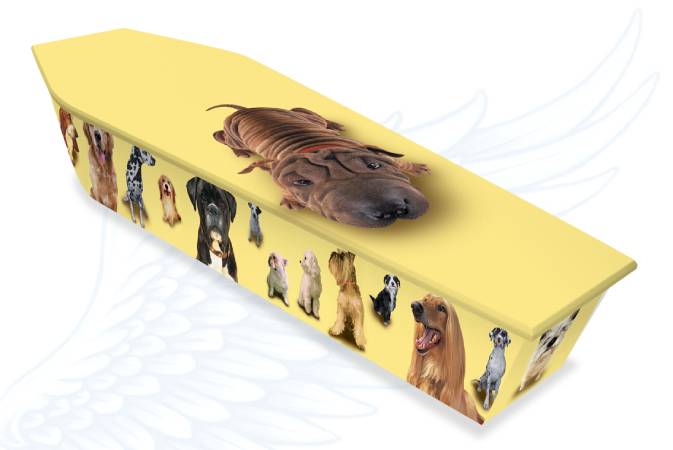 Dog Lover DOG01
My husband recently died. We used the dog coffin for him and it brightened up the whole day. In fact some people came up to us and said they enjoyed the funeral as it was light hearted and not depressing. The Casket certainly helped us a lot and I think the children will remember it as funerals are not something to be so frightened of. I have fourteen year old twins (a boy and a girl) and it was them that chose the dog coffin for their dad. My sister has always said why be boring so we threw tradition out the window. This would not have been possible without the wonderful coffins you make. It really made the day much more cheerful and a number of people said they actually enjoyed going to the funeral. It turned out to be more of a celebration of Jims life and all he had given to us.
-
01
02
03
04
05
06
07
08
09
10
11
Custom Design – Pet URN for Dog
The urn is absolutely wonderful. Words fail me. Everyone was really impressed. The box has now taken center stage on the mantel piece with some flowers and her rose bush is growing at a great speed. The cat has taken to lying next to the rose bush if only she knew.
Thank you so much for giving my family something special for our puppy.
Michelle
01
02
03
04
05
06
07
08
09
10
11
Custom Design – Photos and Sunset on the Water
The funeral went really well and the casket looked absolutely beautiful down on the sand at Days Bay, almost being lapped by the water. Thank you for your efforts. In the terms of comments, people were just amazed by the casket. No-one had seen anything like it. Personally, in my six years as a funeral director I have not seen anything that could touch it! It was a very beautiful casket and reflected this woman's life and personality perfectly. Your ability to provide such a quick turnaround makes this a real choice for families.
Many thanks,
Lynne
01
02
03
04
05
06
07
08
09
10
11